---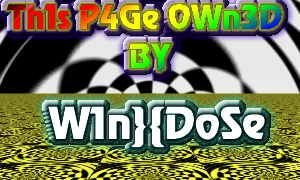 ---
Mad PropS TO: (The #HaCkPhrEak KrEw Sup? Ya ALL!)+(TriBe)
+TeAm C0D3 Z3R0+(VisUlAiD)(#CaRPaTrZ NiNjAz)+Who EvEr ElSe.. U Know Who U Are)
---
(ChinA Is A ThrEaT tO HUMANITY!)
"Because the Chinese Government strictly controls access to and
information about Tibet, the scope of human rights abuses cannot
be precisely determined. However, according to credible reports,
during 1996 Chinese government authorities continued to commit
widespread human rights abuses in Tibet, including instances of
death in detention, torture, arbitrary arrest, detention without
public trial, long detention of Tibetan nationalists for peacefully
expressing their religious and political views, and intensified
controls on religion and on freedom of speech and the press,
particularly for ethnic Tibetans."
HAPPY NEW YEAR! MUTCH LOVE TO THOSE WHO ARENT WITH US ANY MORE .....