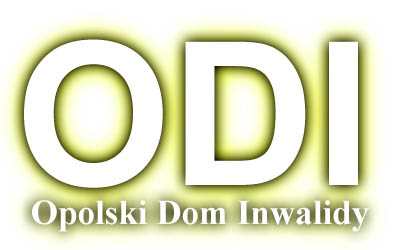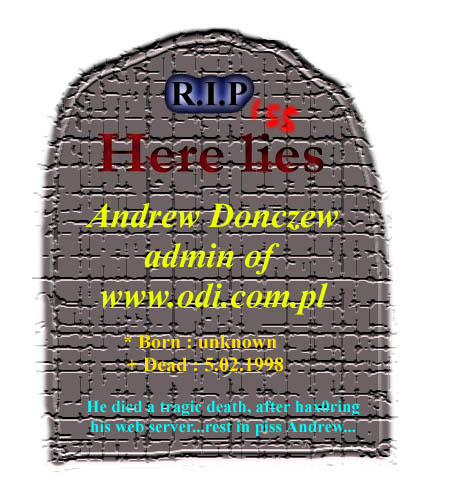 ODI is a internet provider...one in his kind because it have an very very special admin : mr. Andrew Donczew... This security specialist can not only secure the server, but he is very good in spying, freightening, and yeling at all of teen hax0r friends from Poland (thx for making those cool polish banners for us)...


We don't want to sabotage the status of this box (or something huh...huh...Beavis) , we just want to show how big dumbass Andrew is...and for his stupidity he is taking quite lot cash =) We suggest a firm which own this server should change webadmin, to someone hmm... eeee....normal =) Let's take a look on some pictures...

This is Andrew's girlfriend... isn't she beautyfull ? is she ??????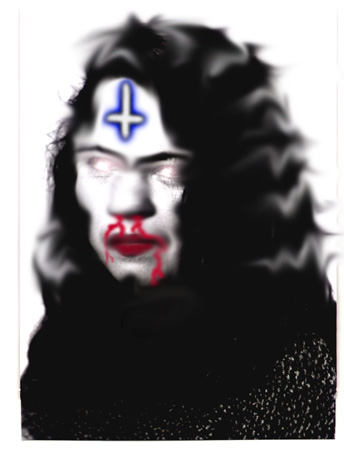 Hmm...enough for now =), now some favorite Andrew's links...
Da best free XXX pics page - Tarika WWW
The place where Andrew sends his sploits - rootshell
Many of Andrew's sploits r there - Fyodor's WWW
And the c00l teen sex pics club, where Andrew is signed =) - allteens.com


Hmm...ok, enough of links
We think that this site is p0wered by :
And doesn't support

Download our kewl manifesto in .txt =)
Check this c00l pic !!! =)
Ok...now some greets...
Thanks to : Alojzy Gumka, Roman Erotoman, Stachu Walipiachu, Jonny Podniecony, Szybki Lopez , Halina z Kobrachcic, Stefan Czlonek, Zbysia z Smietnisia, my lovely grandma (she died 10 years ago, but she was really h0rny hax0r), oraz dla Kasi co w burdelu swiatla gasi =)...

Special thx to :
Carolus gremlin, NetGuru gremlin, Knie gremlin, Cybergod gremlin, all gremlinz from #hax, #hack, #hackpl, #wittigowo, #diuna (you're great guyz), and of course thanks to kewl RiZZelmut =)...


Thanks to my love Agata...i love u =)


Shit...i almost forgot...one gremlin asked me to put some greetz here - so here they are ! Greetz to Ania from Bydgoszcz from one of the #hackpl gremlinz =)


Ehmmm...Andrew, don't be angry for that hax0r joke =)...thank me, that i've didn't issue 'rm -rf' on your server's root directory =)


FREE KEVIN MITNICK !!!
Created in 1998 after the Christ by anonymous Unix HaX0rEz